Exhibition: Eclectic Collecting: Curiosities from the Vault
What treasures might be lurking in storage at the Allentown Art Museum? We invite you to experience Eclectic Collecting, a delightful romp through some of the lesser-known areas of our collection. From gemstones and seventeenth-century German tankards to ancient Pompeian oil jars, this exhibition celebrates wonderful and unusual artworks that don't often make it on display.

Like most museums, we are only able to exhibit a small fraction of our collections at a time. With more than twenty thousand objects in our holdings, spatial limitations are a factor—as well as the need to limit light exposure for fragile materials.

Eclectic Collecting explores the changing goals that have informed the Museum's collecting priorities past and present, and offers opportunities for visitor responses as well as playful participation.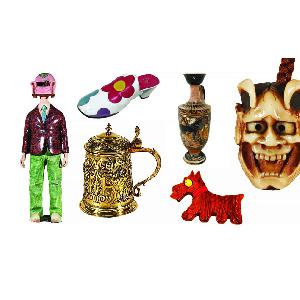 Related Objects
Aryballos
Unknown
7th Century B.C.
View
Fragment
Late 5th Century
View
Bookmark
Maker Unknown
View

Itajime Board, Textile Printing Block, ("shippou" - 7 Treasures) Pattern
Maker Unknown
late 1800s - early 1900s
View
Scotty Dog Pin
Maker Unknown
1930s
View
Peridot, 117.91 cts, Burma
View
Patchwork Shoes
Maker unknown
late 1960s - 1970s
View
Scotty Dog Pin
1930s
View
Firebird
Taper, Geri
View

Large Plate from Miniature Silver Service Set
Unknown
View
Poodle Pin
Trifari
1950s
View
Bookmark
Maker Unknown
View
Poodle Pin
1950s
View

African Folktale
Legge, Willow
1979
View

Sauceboat from Miniature Silver Service Set
Unknown
View

Writing Box
Dalton, T.
About 1850
View

Itajime Board, Textile Printing Block (Floral Pattern)
Maker Unknown
late 1800s-early 1900s
View
Rubies, Red, (1.42 - 2.68 cts), Thailand
View

Untitled
Hoyland, John
1970
View

Women's Thong Sandals
View

Netsuke - Man Huddled Over Log
Unknown
View
Poodle Pin
Pell
1950s
View
Poodle Pin
1950s
View
Pocket Sun Dial
late 18th century
View
Netsuke - Scholar Reading
Unknown
View
Poodle Pins
1950s
View

Netsuke - Horse Twisting Backward, Carrying Man
Unknown
View

Netsuke - Man with Eels
Unknown
View
Poodle Pendant
1950s
View

Thick Glass Humpen
Maker Unknown
View
Scottie Dog Pin
1930s
View
Bookmark
Maker Unknown
View
Poodle Pin
1950s
View
Woman's Short Boot-Style Shoes
Maker Unknown
1840s-1850s
View
Netsuke - Seated Figure in Ceremonial Robes Reading a Book
Unknown
View

Brandy Warmer
Unknown
1730
View
The Mill
Sedgley, Peter
1964
View
Bookmark
Maker Unknown
View
Hair Receiver
1850
View

Lavabo
Unknown Maker
15th Century
View
Women's Boots
late 1800s
View
Poodle Pin
1950s
View
Poodle Pin
1950s
View
Zircon, Golden, 58.18 cts, Sri Lanka
View

Untitled
Sawada, Tetsuo
Unknown
View

Porcelain Urn from Miniature Silver Service Set
Unknown
View

Frame
Unknown
16th or 17th Century
View

King Charles Spaniel
Unknown Maker
About 1850/1860
View
Passglas
Unknown
View
Bookmark
Maker Unknown
View
Netsuke - Manju Netsuke Incised with Picture of Man Playing Flute with Demon
Unknown
View
Sewing Bird
Late 19th Century
View

Frame
Unknown
16th or 17th Century
View
Poodle Pin
1950s
View
Poodle Pin
1950s
View
Bookmark
Maker Unknown
View
Poodle Pin
1950s
View
Firebird
Taper, Geri
View
Poodle Pin
1950s
View

Berlin Woolwork Sampler
Unknown Maker
1883/1886
View

Baby Cradle from Miniature Dining Room Furniture
Unknown
View
Garnet, Rhodolite, 22.58 cts, Tanzania
View
Poodle Pin
CINER
1950s
View

Netsuke - Man with Basket on Back
Unknown
View
Scotty Dog Pin
1930s
View
Bookmark
Maker Unknown
View

Set of Tea and Sugar Canisters in Casket
Methuen, George
ca. 1755/56
View
Poodle Pin
Sarah Coventry
1950s
View
Poodle Pin
1950s
View

Bell for the Inkstand from Miniature Silver Service Set
Unknown
View
Nanban Screen
Unknown Maker
early 1700s (Edo Period)
View
Poodle Pin
1950s
View
Poodle Pin
Felchcraft
1950s
View
Poodle Pin
1950s
View
Shoes
About 1950
View
Untitled
Grippi, Salvatore
2005
View
The old oaken bucket
Unknown Maker
19th Century
View
Poodle Pendant
1950s
View
Poodle pin
1950s
View
Scotty Pin
Maker Unknown
1935-45
View

Lamp from Miniature Silver Service Set
Unknown
View
Shoes
1800s
View

Serving Bowl in Shape of Viking Ship from Miniature Silver Service Set
Unknown
View
Sandals
Early 1900s
View

Frame
Unknown Genoese Maker
16th or 17th Century
View
Bookmark
Maker Unknown
View

Table Service Case from Miniature Silver Service Set
Unknown
View
Opal, White, 15.93 cts, Australia
View
Rubies, Red, (1.42 - 2.68 cts), Thailand
View
Poodle Pin
View
Aryballos
Unknown
7th Century B.C.
View

Omon (Perfume Sprinkler)
Unknown
ca. 1100-1200
View

Thimble and Needle Holder
Unknown
18th Century
View

Deepmala (oil lamp)
Unknown Maker
c. 1500s
View
Bookmark
Maker Unknown
View
Bookmark
Maker Unknown
View
Bookmark
Maker Unknown
View
Child's Shoes
19th Century
View
Poodle Pin
1950s
View
Bootie
19th Century
View
Album with Brush Drawings and Wooden Cover
Unknown
Undated
View

Cake Basket from Miniature Silver Service Set
Unknown
View
Aquamarine, Santa Maria Color, 41.78 cts, Nigeria
View

Netsuke - Two Women on Turtle
Unknown
View

Katar and Case
Maker Unknown
View
Poodle Pendant
1950s
View

Slovo o polku igoreve (The Lay of Igor), Book with Lacquering Covers in Oak Box
Golikov, Ivan Ivanovic
1934
View

Goblet from Miniature Silver Service Set
Unknown
View

1979-P-U
Wasserman, Burton
View

Frame
Unknown Florentine Craftsman
16th or 17th Century
View

Wreath
Unknown Maker
About 1870
View
Rubies, Red, (1.42 - 2.68 cts), Thailand
View
Sandals
1940s
View
Hokusai Manga, Calligraphic Page from Hokusai Manga vol. 3
Hokusai, Katsushika
Undated
View
Bookmark
Maker Unknown
View
Bookmark
Maker Unknown
View
Lake I
Kessler, Michael
1986
View

Netsuke - Karakuri (trick)
Unknown
View

Serving Tray with Lid from Miniature Silver Service Set
Unknown
View

Shell-Shaped Dish from Miniature Silver Service Set
Unknown
View
Inro
Unknown
View
Emerald, 2.51 cts, Zambia
View

Tiny Plate from Miniature Silver Service Set
Unknown
View
Poodle Pin
GERRYS
1950s
View
Friendship Album
1700s
View
Poodle Pin
1950s
View

Frame
Unknown Florentine Craftsman
16th or 17th Century
View

Tankard with Hinged Lid
Unknown
17th Century
View

Basket from Miniature Silver Service Set
Unknown
View
Women's Thong Sandals
View

Hooked Rug - Dog
Unknown Maker
early 1900s
View
Bookmark
Maker Unknown
1852
View
Bookmark
Maker Unknown
View
Four Coromandel (Door) Panels
Unknown
Early 1800s
View

Frame
Unknown
16th or 17th Century
View
Twin Scotty Dog Pin
Maker Unknown
1930s
View
Moonstone, Green, 35.84 cts, India
View

Jug from Miniature Silver Service Set
Unknown
View

Porcelain Dish from Miniature Silver Service Set
Unknown
View
Bookmark
Maker Unknown
View
Poodle Pins
1950s
View
Poodle Pin
1950s
View
Sewing Book
North American, American
View

Fragment
Unknown
ca. 1st Century/5th Century
View

Dessert Cup
Steuben Glass Works
View
Bookmark
Maker Unknown
View

Luncheon Kit
Hertz (Hentz), Johann Bernhard; Andreev, Dmitri; Nicholls & Plinke
About 1855
View
Poodle Pin
Gerrys
1950s
View
Bookmark
Maker Unknown
View
Netsuke - Yawning Man
Unknown
View
Artistory
Seidel, Jochen
About 1970
View

Wine Funnel
Fenwick, George
1823
View
Bookmark
Maker Unknown
View

Frame
Unknown Genoese Maker
16th or 17th Century
View
Poodle Pin
Sarah Coventry
1950s
View

Chair with Porcelain Seat and Back from Miniature Dining Room Furniture
Unknown
View

Sloop
Greenberg, Howard
1989
View
Diamond, 2.51 cts, Africa
View

Hair Wreath
Deagle, Anna Hicks
1868
View
Bookmark
Maker Unknown
View
Poodle Pin
1950s
View
Netsuke - Standing Ghost
Unknown
1700s
View

Schnapshund
Unknown
1600s
View
Glitter Platform Shoes
1970s
View

Mug
Fogelberg, Andrew
1799
View

Textile Printing Blocks
Maker Unknown
late 1800s
View

Toby Mug
Unknown
1800s
View

Netsuke - Man Seated on Huge Frog
Unknown
View
Poodle Pin
1950s
View
Rubies, Red, (1.42 - 2.68 cts), Thailand
View

Fragment
About 1st Century/5th Century
View
Child's Shoes
View

Netsuke - Man with Octopus in Basket
Unknown
View
Topaz (Imperial), 46.20 cts, Brazil
View
Rubies, Red, (1.42 - 2.68 cts), Thailand
View
Canvas Bathing Shoes
late 1800s
View

Netsuke - Tiger Pair
Unknown
View
Bookmark
Maker Unknown
View
Bookmark
Maker Unknown
View

Silver Candle Snuffer with Raised Shell Motifs
Gilbert, John
About 1787
View

Shaving Mug
Unknown Maker
1800s
View
Poodle Pin
1950s
View
Bookmark
Maker Unknown
View
Poodle Pin
1950s
View

Fragment
Unknown
ca. 1st Century/5th Century
View

Porringer
Locke, Nathaniel
1712
View

Heating Plate Stand with Lamp from Miniature Silver Service Set
Unknown
View
Bookmark
Maker Unknown
1846
View

Three-Tiered Table from Miniature Dining Room Furniture
Unknown
View
Bookmark
Maker Unknown
View
Poodle pin
1950s
View

Giant Flute
Unknown
1600s
View
Bookmark
Maker Unknown
View

Boots
Unknown
ca. 1895
View

Footed Cup
Unknown
16th/17th Century
View

Basket Cart from Miniature Dining Room Furniture
Unknown
View
Poodle Pin
1950s
View

Sugar Caster and Lid
Unknown
View
Poodle Pin
1950s
View
Women's Mules
Selby
Late 1960s
View
Poodle Pin
Beaucraft
1950s
View

Netsuke - Mask
Unknown
View

Sauceboat from Miniature Silver Service Set
Unknown
View
Child's Shoes
19th Century
View
Poodle Pin
Pell
1950s
View
Busk
Chapman, John S.
May 18, 1858
View

Kettle with Stand and Lamp from Miniature Silver Service Set
Unknown
View

Dessert Plate
Steuben Glass Works
View

Goblet (Wulfglass)
Unknown
1747
View
Sapphire, Blue, 11.07 cts, Sri Lanka
View

Porringer from Miniature Silver Service Set
Unknown
View
Scotty Pin
Maker Unknown
1940s
View
Amethyst, 98.53 cts, Brazil
View

Where Are My Slippers?
Earl, Jack
1979
View
Rubies, Red, (1.42 - 2.68 cts), Thailand
View

Mini Basket from Miniature Silver Service Set
Unknown
View
Men's Platform Shoes
1970s
View
Bootie
19th Century
View
Bookmark
Maker Unknown
View
Bookmark
Maker Unknown
View

Pair of Manchu Women's Shoes
about 1900
View

Hunting Cup with Cover
Unknown
1800s
View

Netsuke - Man on Swan
Unknown
View
Scotty Dog Pin
1930s
View

Tiny Spoon from Miniature Silver Service Set
Unknown
View